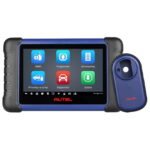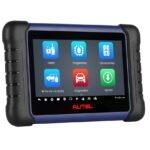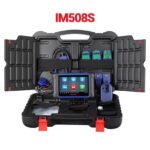 Autel MaxiIM IM508 S IM508S Car Key Programming Tool Diagnostic Tool All-in-One Key Programmer OBD2 Scanner 2023 PK IM508
20
personer ser på dette akkurat nå

Garantert trygg og sikker utsjekking
Beskrivelse
Electronic: 

Yes

Material Type: 

plastic

Item Weight: 

0.78kg

Item Height: 

50inch

Item Width: 

50inch

Item Length: 

50inch

External Testing Certification: 

ce

Voltage: 

12 V (9-24 V)

Special Features: 

Bluetooth,Wifi

Power: 

7.5 W

Model Name: 

Autel MaxiIM IM508S

Software Version: 

2023 Newest

Hardware Version: 

2023 Newest

Item Type: 

Auto Key Programmer

Brand Name: 

Autel

Origin: 

Mainland China

Certification: 

CE

Brand: 

Autel

Name: 

Autel IM508S

Operating System: 

Android 11

Processor: 

Rockchip RK3566 Quad core, 4x 1.8GHz(A55)

Memory: 

64GB

Display: 

7-inch LCD capacitive touchscreen with 1024×600 resolution

Connectivity: 

Mini USB 2.0 USB 2.0 Wi-Fi

Connectivity 2: 

Micro SD card (supports up to 32GB)

Sensors: 

Ambient light sensor for brightness auto changing

Audio Input/Output: 

Input: N/A Output: buzzer

Power and Battery: 

3.7 V/5000 mAh lithium-polymer battery

Power and Battery 2: 

Charges via 5 VDC power supply

Operating Temp: 

0 to 50°C

Storage Temp: 

-20 to 60°C

Dimensions (W x H x D): 

300 mmx 220 mm x 50 mm

Weight: 

NW 1.42 kg GW 8.655 kg

Protocols: 

ISO9141-2,ISO14230-2,ISO15765

Protocols 1: 

Highspeed,Middlespeed,Lowspeed and Singlewire CAN

Protocols 2: 

SAE-J1850 PWM,CAN ISO 11898,Highspeed

Protocols 3: 

Middlespeed,Lowspeed and Singlewire CAN

Protocols 4: 

fault-tolerant CAN SAE J2610,GM UART,UART Echo Byte Protocol

Protocols 5: 

Honda Diag-H Protocol, TP2.0, TP1.6

Feature: 

XP200 key programmer

Fuction: 

Car Scanner

Effect: 

Car diagnostic

interface: 

Obd2

Type: 

scaner automotriz profesional

GOOd: 

batter than launch x431 pro

Tested Battery Life: 

Around 4.5 hours of continuous use

Battery Charging Input: 

5 V/1.5 A

Power Consumption: 

500 mA (LCD on with default brightness, Wi-Fi on) @3.7 V

Operating Humidity: 

5% – 95% non-condensing

Supported System: 

ABS, DPF, EPB, SAS, SRS, TPMS, Engine, Transmission, BMS

Supported System 2: 

Oil Reset, BMS, Seats, Injector, Suspension, Throttle

Supported System 3: 

lmmo Keys, WIN DR POOF, Brake bleed

Supported System 4: 

IMMO Key Programming, advanced key learning

Supported System 5: 

IMMO ECU reset/adaptation, refresh/coding

Supported System 6: 

key generation, EEPROM/MCU read/write

Accessories: 

Adapter Cable, Carrying Case, USB Cable, User Guide

Features 1: 

Backlit Display, Built-In Battery

Features 2: 

Check Engine Light Shut Off, Erases Codes

Features 3: 

Freeze Frame Displays, Internet Updateable

Features 4: 

LCD Display, Multi-Language Interface

Features 5: 

User Friendly, Color Display

Multi-Language 1: 

English, Spanish, Russian, Portuguese, Italian,Polish

Multi-Language 2: 

Japanese, Korean, German, Swedish,Turkish,Vietnamese,Arabic,Thai

Similar Item: 

Autel MaxiIM IM608,IM608PRO

Model: 

Autel MaxiIM IM508 IM508PRO

Warranty: 

1 Year

Free update: 

2 Year,1-Year (North America)
Note:
The IM508S is only available for 1 year of free updates in North America Countries!Other countries are free updates for two years!
The difference of IM508S and IM508
IM508S is IM508's updated version.
IM508S Free Update Online:2 Year
IM508S have more advanced hardware.You can check the following difference:
■ IM508S Hardware
Processor: Rockchip RK3566 Quad core, 4x 1.8GHz(A55)
RAM: 4G
ROM: 64GB
Android Version: Android 11
DB16 DLC: Support
Screen Size: 7inch
■ IM508 Hardware
Processor: Rockchip RK3188 Quad core, 4x 1.6GHz(A9)
RAM: 1G
ROM: 64GB
Android Version: Android 4.4.4
DB16 DLC: Not Support
Screen Size: 7inch
MaxiIM IM508S
MaxiIM IM508S is a 7-inch, Android-based touchscreen tablet with professional key and immobilizer programming functionality, all systems diagnostics, and an extensive service menu. The tablet, which features a quad-core processor and 64 G.B. onboard memory and runs on the powerful Android 11 operating system, offers faster bootup and operation speed. Equipped with the XP200 key programmer, the IM508S can perform key and immobilizer functions, including Key and Remote Control Learning and basic EEPROM and MCU Read and Write capabilities. The IM508S also enables technicians to complete an all-systems diagnostic scan and read and erase codes, view Freeze Frame and Live Data on U.S., Asian, and European vehicles, 1996 and newer. The tablet also features an extensive menu of the most often performed maintenance and service tasks, including oil light reset, brake bleed, battery registration, steering angle sensor reset, and occupancy seat calibration. The IM508S also offers report cloud management, making saving and sharing reports easy.
Description
• Powerful combination of key and immobilizer programming, all system diagnostics, extensive service menu
• Smart Mode for guided and automated key learning
• Expert Mode for advanced key learning
• Read PIN/CS (all keys lost) key generation, key learning, remote learning
• IMMO ECU reset/adaptation, refresh/coding
• Transpronder read/write, EEPROM/MCU read/write
• All Systems diagnostics for U.S., Asian, and European vehicles, 1996 and newer
• Extensive Service Menu, including EPB, DPF, SAS, Oil Light Reset, and BMS
• Cloud-based report management, allowing you to view device and test records anytime, anywhere
• Quad-Core processor
• Internal reliable 64GB Memory
• Android 11.0 Operating System for fast bootup and multitasking
• 7-inch LCD touchscreen with 1024 x600 resolution
Bi-Directional Control(Active Test)
What would you do if the wipers stopped working? Just replace one or spend a lot money to fix it? Don't be in a hurry to dismantle your cars! Bidirectional control tool IM508 can perform real active test that can send commands to the vehicle's ECU to drive the actuators to work, like ABS, window, door, solenoids, valves, wipers, headlamp, etc, helping you quickly find out bad parts and pinpoint faulty issues.
Note: Functions NOT universal, please send VIN(17 digits),car makes, model, year to check compatibility before purchase.
All System Diagnostics & 28+ Service Functions:
The Diagnostics application can retrieve ECU information, read & erase DTCs, and view live data. The Diagnostics application can access the electronic control unit (ECU) for various vehicle control systems, including engine, transmission, antilock brake system (ABS), airbag system (SRS)……
Det er ingen spørsmål funnet.