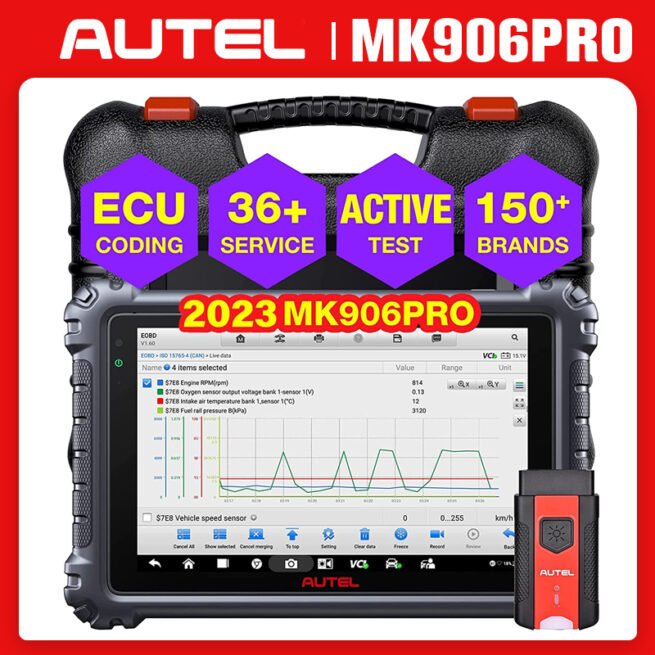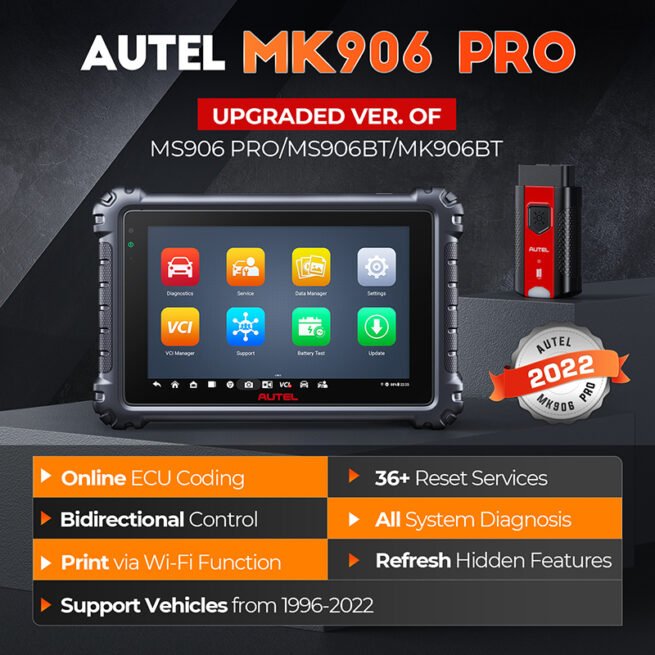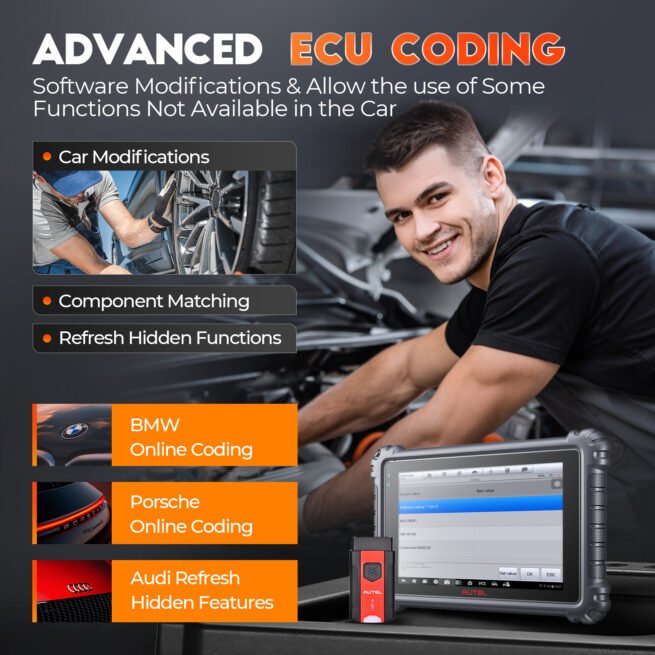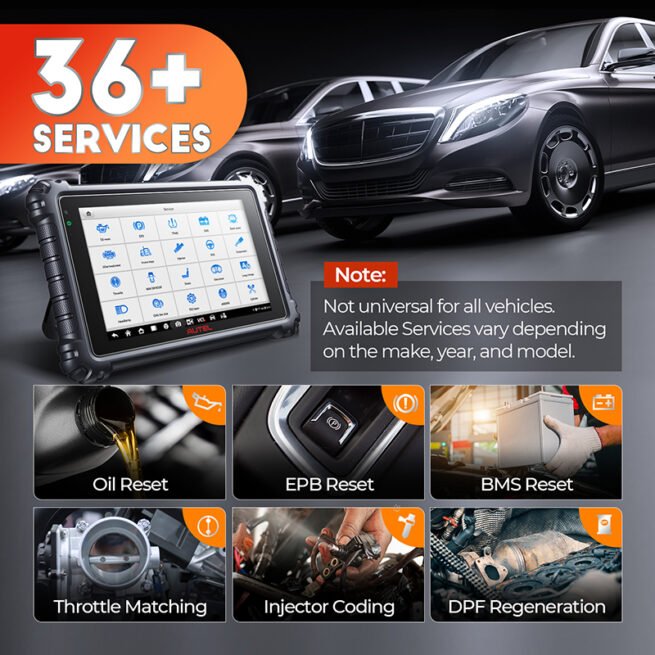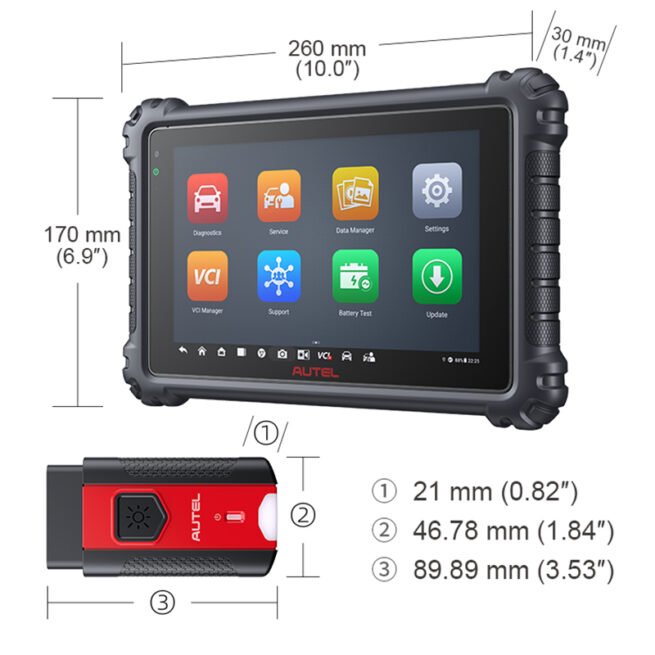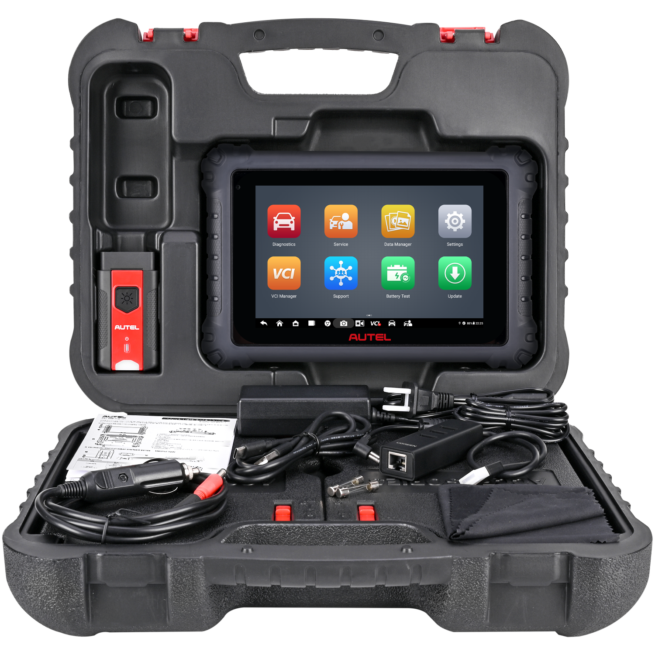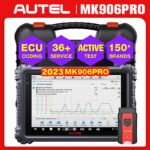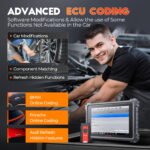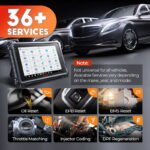 Autel MaxiCOM MK906 Pro MK906PRO Diagnostic Scanner Advanced ECU Coding Diagnostic Tool OBD2 Scanner PK MaxiSys MK906BT MS906
22
personer ser på dette akkurat nå

Garantert trygg og sikker utsjekking
Beskrivelse
Electronic:

Yes

Material Type:

ABS Plastic

Item Weight:

2.18kg

Item Height:

1.34inch

Item Width:

14.43inch

Item Length:

11.06inch

External Testing Certification:

ce

Power:

12V/3A Adapter

Model Name:

Autel MaxiCOM MK906Pro

Software Version:

OBD SCANNER

Hardware Version:

Dignostics Tool

Item Type:

Engine Analyzer

Brand Name:

Autel

Origin:

Mainland China

Item:

Autel MaxiCOM MK906 PRO

Operating System:

Android 10.0

Processor:

Samsung Exynos8895V octa-core Processor

Memory:

4GB RAM & 128GB On-board Memory

SD Card:

Support up to 256GB

Display:

8.0 LED capacitive touch screen

Warranty and Update:

1 Year

UPDATE:

1 Year update service

Function 1:

advanced ECU coding

Function 2:

Smith-Level ECU Coding

Function 3:

Active Test

Function 4:

AutoAuth Access
LOWEST PRICE FOR EU BUYER
Click on More options and choose shipping from China to EU Countries(Spain, Germany, Netherlands, France, etc). You will find that the final price is cheaper than choosing shipping from EU warehouse.
Please pay directly and get the lowest price. We will send parcel to you from EU warehouse. The package will arrive in 3-5 days.
Autel MaxiCOM MK906Pro Diagnostic Scanner: 2022 Updated Version of MK906BT/MS906BT/MS906TS/MK908, OBDII Scan Tool with 33+ Service, ECU Coding, All System Diagnostics, Bi-Directional Control
Important Selling Point:
1.

Autel MK906 Pro, upgraded model of MS906 Pro / MK906BT / MS906BT

, is equipped with 11600mAh Battery, Android 10.0 OS, 16M+16M Camera, and 4+128GB Memory for super-fast & long-lasting continuous diagnostics. New protocols CAN FD & DoIP also make Autel scanner MK906 Pro communicate smoother between vehicle modules.
2.
Advanced ECU Coding & V200 with CAN FD, DoIP
: Activating the high-level functions and disabling the unneeded functions to optimize the vehicle performance.
3.
36+ Maintenance Functions
4.
All System Diagnostics
: Reaching to all available vehicle systems to operate OE-level diagnostics and read/clear all the fault codes
5.
Bi-Directional Control & 10000+ Vehicle Coverage (1996-2022)
5.
User-friendly Features
: Auto VIN/ Scan VIN/ Scan License technology for quickly accessing vehicle information and entering diagnostic operation
6.

 

Support multiple languages: English, German, Spanish, French, Traditional Chinese, Japanese, Polish, Portuguese, Russian, Italian, Korean, Dutch, Swedish, Turkish, Thai, Vietnamese, Arabic, Persian Chinese, Heberian, Indonesian
7.
Support Battery Tester & Oscilloscope & Digital Inspection Camera:
Videoscope Module (work with MV105/108), Report Management, WiFi Printing, etc.
Why Do We Launch MK906 Pro Based on MK906BT?
1.
More high-end configuration allows you to diagnose vehicles faster and smarter
2. More extensive car brand coverage allows you to diagnose more vehicles
3. More advanced functions allow you to easily solve all repair problems with 1 automotive diagnostic scanner
Ultra-Level Hardware:
8-inch, 1920*1200 touchscreen, Qualcomm 660 Octa-core processor, 4G+128GB, multitasking Android 10.0 baesd

1600mAh long-lasting rechargeable battery, 16 MP front and rear cameras

MaxiVCI V200 wireless BT vehicle communication interface, CAN FD & DoIP supported
High-End Software:
OE-level ECU online coding, advanced ECU offline coding/adaptation
36+ special functions for 150+ brands

Bi-directional control/active Tests

OE-Level all-system diagnostics

Component matching, online account login, VAG guided functions, anti-theft IMMO, power balance, refresh hidden functions;

NO IP Restrictions, 13+ Languages, Pre-& Post-Scan Reports, Report Management , Auto VIN/Scan
And More…
Based on MK906BT, MK906 PRO Is the Choice of a New Era
Autel MaxiCOM MK906PRO Diagnostic Tool Bluetooth Scanner Automotivo ECU Coding MK906 PRO PK MS906BT MK906BT Automotive Tools
MaxiCOM MK906PRO is the latest addition to the MaxiCOM product line of advanced wireless diagnostic devices. The device is based on the Android operating system featured with the best possible coverage of OE-level diagnostics and ECU coding capability. Utilizing the powerful Exynos 5260 6-core processor (1.3 GHz quad-core ARM Cortex-A7 + 1.7 GHz dual-core ARM Cortex-A15), an 8" capacitive HD touch screen, and long-distance wireless communication, the MaxiCOM MK906BPRO efficiently provides comprehensive vehicle diagnostics and analysis.
■ Full-System Diagnostic
Advanced Bi-Directional Control and OE-Level All Systems Diagnostics
The bi-directional control (also called active/actuator tests) of the Autel intelligent diagnostic tool—Autel MaxiCOM MK906Pro allows you to command ECUs, read the ECU data, and monitor the operation of the actuators. Through active tests on PDM, SMF, RSM, TCU, and other on-board modules, this Autel car bi-directional scanner helps you locate car issues precisely & quickly, greatly reducing diagnostic times.
If a fuel pump is not working and leads to ignition failure, it could be a faulty pump, wiring, relay, or command. By turning the fuel pump on and off via bidirectional scan tool MK906 Pro scanner you can quickly determine whether it's wiring, relay, or pump issue without removing any parts.
Active tests are often widely performed on different components:
such as Fuel Pump Turn on/off; A/C Configuration; Adaptive Headlamp Adjustment; Window Wipers Setting; Door/ Sunroof/ Mirrors Reset nterior lights, inside mirrors, steering wheel heating, windows, horn, etc.
OE-Level All Systems Diagnostics – Fast, In-depth, and Accurate Diagnostics &Analysis
When facing various vehicles to check, you absolutely need an advanced comprehensive auto diagnostic tool, like the Autel MK906Pro car computer code reader, which can get quick access to all available systems, such as Engine, AT, ABS, SRS, IMMO, air conditioning system, steering angle system, air suspension system, etc. and perform the same level of diagnosis, analysis, and maintenance as the OEM dealer, making it easy for you to diagnose the whole car in minutes.
ECU Information – get the retrieved ECU information in detail.

Read DTCs – know what the problem is according to the DTC and its definition.

Clear DTCs – the solution to turn the warning light off after code reading and repairs.

Live Data Stream – displayed in various modes to determine the specific problems accurately (text, waveform, etc.)

Auto VIN: The newly added Scan VIN/Scan License of MK906 Pro scanner helps you identify the vehicle information faster and more precisely than MaxiCOM MK906BT by scanning the bar code/VIN/License.
And More Functions waiting for you to explore with MK906PRO diagnostic scan tool for all vehicles…
■
Active Test
By passing the electronic control module and communicating directly with the control unit is an efficient diagnosis method. The MK906BT car scanner can perform active tests to check the vehicle's running states by receiving information from ECUs or by monitoring actuators (e.g., switching solenoids, relays, or on-off between two operations) to control the system or parts (e.g., ABS, windows, doors, roof).
■
Auto VIN
Just one click can facilitate the vehicle diagnostic process. MK906PRO scanner tool incorporates the latest Auto VIN technology that allows technicians or repairmen to easily identify vehicle information such as manufacturer, model, year and place of manufacture, etc.
■
Guided Functions
save your manual input of the Security Access Code & Channel Number for successful matching/calibration; and to make basic settings. Compatible with VW, Audi, Skoda, Seat …
Advanced ECU Coding ‒ Level up Your Repair Skills & Work Efficiency
As the 2022 new upgrade of MaxiSys MS906BT / MaxiCOM MK906BT, locksmith tool Autel MaxiCOM MK906 Pro supports advanced ECU coding to help mechanics/technicians customize cars faster and more secure than snap on tools, greatly improve work efficiency, and meet customers' needs.
enable you to access the online data from the OEM server to do high-level repairs, such as online coding for BMW, for VW, for Porsche, for Infiniti, for Nissan, for Nissan-GTR, for Hyundai, etc.;
Offline Coding/Adaptation

read the code from the original module, and then write the code to the new module, such as Offline Adaptation for Ford, for Mazda, etc. Offline Coding for Jaguar, for Vauxhall, for Opel, etc.
match/ learn/ initialize adaptive data for certain components after module replacements.
activate the hidden features or disable the annoying features, such as auto side mirrors folding function, automatic engine Start-Stop function, etc. Compatible with BMW, with VW, with A-u-d-i, with Skoda, etc.
help mechanics/technicians modify the cars, like installing car courtesy lights.
NOTE: ECU Coding is NOT universally compatible with all vehicles, and varies depending on the make, model, and year.
We Tested the 36+ Maintenance Function on 150+ Brands
1. Limited maintenance functions?
2. Limited vehicle compatibility?
3. Fail to support the new released car models?
Autel MK906Pro professional mechanic tool is designed to fix all above issues and enables you to be a mechanical whiz to care for 99% cars in the market (from 1996 to 2022). escaner automotriz professional MK906 Pro offers 36 hot special functions with super easy-to-use navigation to meet all your needs for short-term, long-term or seasonal check-ups.
36+ Reset and Maintenance Functions:
Oil Reset EPB Reset, SAS Reset, Airbag Reset, BMS Reset, Brake Bleed, TPMS Reset, DPF Regeneration, IMMO, Clutch, Trans Adaption, WIN DR ROOF, Headlamp, TEC Learn, A/F Setting, Injector Coding, Suspension Calibration, Throttle Adaption, ABS/SRS, Gear Learning, Sunroof Initialization, Seats Calibration, Language Change, Headlamp, CHG Tire Size, Cylinder, Turbocharging, Limit, Trans Adaption, VIN, ACC, HV Battery, Transport Mode, A/C, Rain/Light Sensor, and More.
Several Car Brands and Functions for Your Reference
For Ford: Keyfob Training, Audio configuration, Climate Control, Police Mode, Power balance, Clear the transmission adaptive tables, etc.

For GM: Idle learn reset, Fuel injector tests, Crankshaft position variation learn, Cylinder power balance, RPM control, IAC motor position, Dolby noise reduction, etc.

For Honda: Side impact sensors, ODS sensors, Buckle switch seat position sensor, Torque sensor learn, TPMS sensor position check, Brake pressure sensor, Steering end position learning, etc.

For Toyota: Assist map confirmation/clear, Torque sensor adjustment, Signal check, Blower motor brush wear amount initialization, Middle differential pressure valve status check, Refrigerant gas volume check, Servomotor initialization, etc.

For J-E-E-P: Trans overhauled/replaced, Mirror actuation test, Erase all ignition keys, PCM replaced, ECU initialization, Initialize ESP sensor, Cylinder balance test, Activate/Deactivate front seat video, etc.
  And for more vehicles..


Ultra-level Hardware and 150+ Brands Support
150+ Brands, NO IP Restrictions
This Autel advanced car scanner supports 99% of vehicles (1996-2022), 10000+ car models from the US, Europe, and Asia, including the latest models in 2022. Meantime, there're no IP restrictions for this US version Autel multi-functional car scanner—MK906 Pro.
FCA SGW Access
MK906 Pro car engine diagnostic code scanner supports AutoAuth for FCA SGW access, allowing you to clear codes, do bi-directional control (active tests), and perform special functions for Chrysler FCA models after 2018 without special adapters. *AutoAuth account needs to be purchased by yourself and is available in the US, Canada, and Mexico (IP). Compatible with Fiat, with Chrysler, with Alfa Romeo, with Dodge, etc. (From 2018-2022).
Ultra-Level Hardware
Based on diagnostic car code reader MS906BT/ MK906BT, more advanced hardware than MaxiSys MS908S PRO:
1. Featuring 8" 1920*1200 high-resolution touchscreen tablet
2. Qualcomm 660 Octa-core processor with 4G+128GB storage
3. Multitasking Android 10.0 OS, long-lasting 11600mAh rechargeable battery
4. 16 MP front and 16 MP rear cameras
This high-end diagnostic scanner brings ultra-fast speed to repair cars swiftly
■ Language
English, Simplified Chinese, Traditional Chinese, Spanish, French, German, Polish, Italian, Japanese, Korean, Dutch, Portuguese, Swedish, Russian
After you get the product, please tell us your SN of machine to activate the language you need .
■

Wide Coverage



No need to worry about compatibility issues. The device currently supports 80+ car manufacturers and 140+ car brands worldwide. Also, you will be able to get more new car models through subsequent high-frequency software updates.

It is compatible with:
For Chrysler, Dodge, For Ford, For GM, For Jeep, For Abarth, For Alfa, For Citroen, For Fiat, For Lancia, For Opel, For Peugeot, For Porsche, For Renault, For Saab, For Vauxhall, For Volvo, For Aston Martin, For Audi, Bentley, For Benz, For Sprinter, For BMW, For Bugatti, For Ferrari, For Jaguar, For Lamborghini, For Land Rover, For Maserati, For Maybach, For Mini, For Rolls-Royce, For Seat, For Skoda, For Smart, For VW, For VW CV, For Dacia, For Ford EU, For LT3, For Acura, For Daewoo, For Daihatsu, For Honda, For Hyundai, For Hyundai CV, For Infiniti, For Kia, For Lexus, For Maruti Suzuki, For Mazda, For Mitsubishi, For Nissan, For Nissan GTR, For Samsung, For Scion, For Ssang Yong, For Subaru, For Suzuki, For Toyota, For Isuzu, For Mahindra, For Perodua, For Proton, For TATA, For HINO, For UD,For Fuso.
■

MK906PRO Specifications
Operating System:Android™ 10
Processor:Octa-core processor (2.2 GHz Qual highperformance Kryo cores + 1.8 GHz Qual lowpower Kryo cores)
Memory:4 GB RAM & 128 GB ROM
Display:8.0-inch TFT-LED capacitive touch screen with 1920 x 1200 P resolution
ConnectivityWi-Fi (802.11 b/g/n)USB: 2.0, Mini USB 2.0Wireless BT V2.1+EDR Class1, HDMISD Card (support up to 32 GB)
Camera (rear)Rear: 16 megapixel, autofocus with flashlightFront: 16 megapixel
SensorsGravity AccelerometerAmbient Light Sensor (ALS)
Audio Input/OutputInput: microphoneOutput: single speakers, 3-band 3.5 mm stereo/standard headset jack
Power and Battery11,600 mAh 3.7 V lithium-polymer batteryCharging via 12 V AC/DC power supply■ MK906BT Package ListAC/DC Adapter (12V)
Adapter for Chrysler-16 (America Only)
Adapter for GM/Daewoo-12
Adapter for Benz-38
Adapter for Mitsubishi/Hyundai-12+16
Adapter for Honda-3
Adapter for BMW-20
Adapter for Kia-20
Adapter for Nissan-14
Adapter for VW/AUDI-2+2
Cigarette Lighter
MaxiVCI V100
Lighter Fuse
Soft Cloth
Mini USB Cable
User Manual
Packing List
Carrying Case
Quick Reference Guide
PSA-2 (Only available In European Version)
Benz-14(Only available in European version)
Fiat-3(Only Avaulable in European Version)■ MK906PRO Package ListMain Unit
MaxiVCI V200
AC/DC Adapter(12V)
Type-C USB Cable
Auxiliary Power Outlet Adapter
Spare Fuse(6*30mm 2pcs)
USB to ethernet Adapter
Quick Reference
Packing List
Soft Cloth
Carrying Case
■
MK906PRO Package List
Main Unit
MaxiVCI V200
AC/DC Adapter(12V)
Type-C USB Cable
Auxiliary Power Outlet Adapter
Spare Fuse(6*30mm 2pcs)
USB to ethernet Adapter
Quick Reference
Packing List
Soft Cloth
Carrying Case
Det er ingen spørsmål funnet.