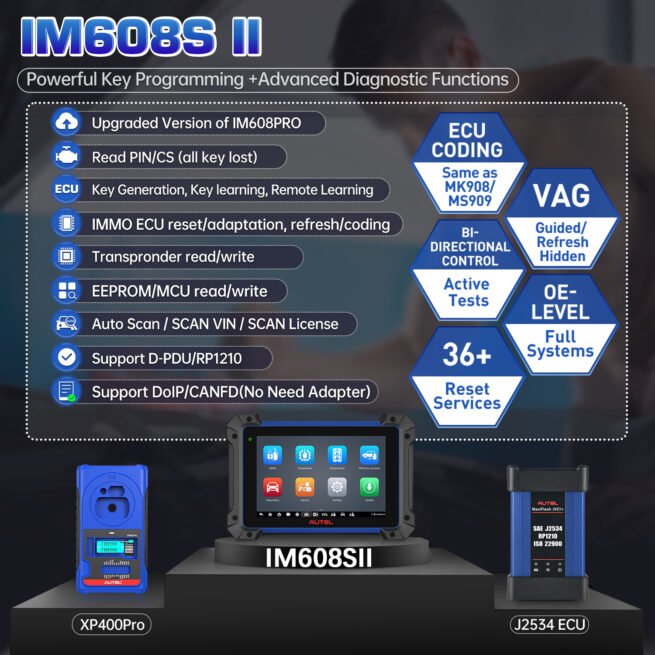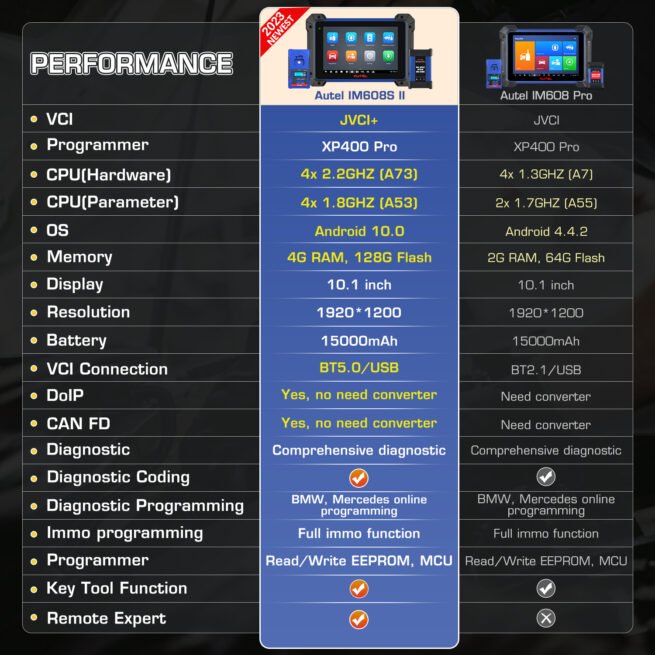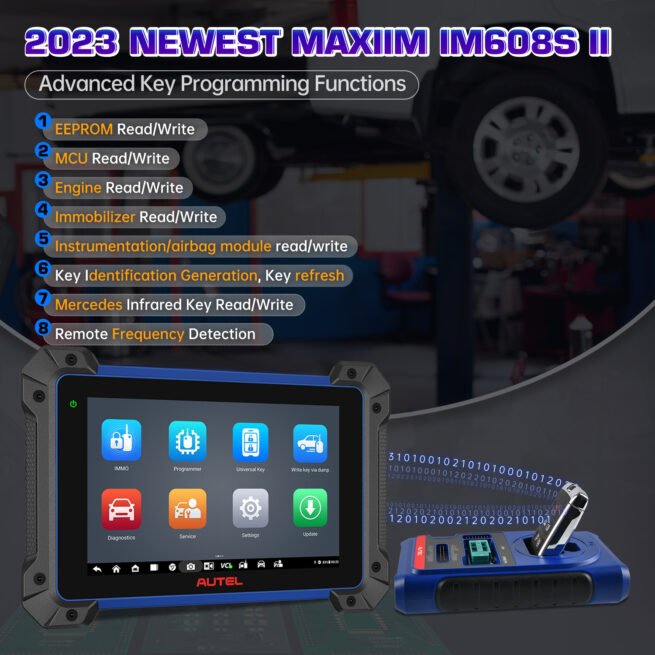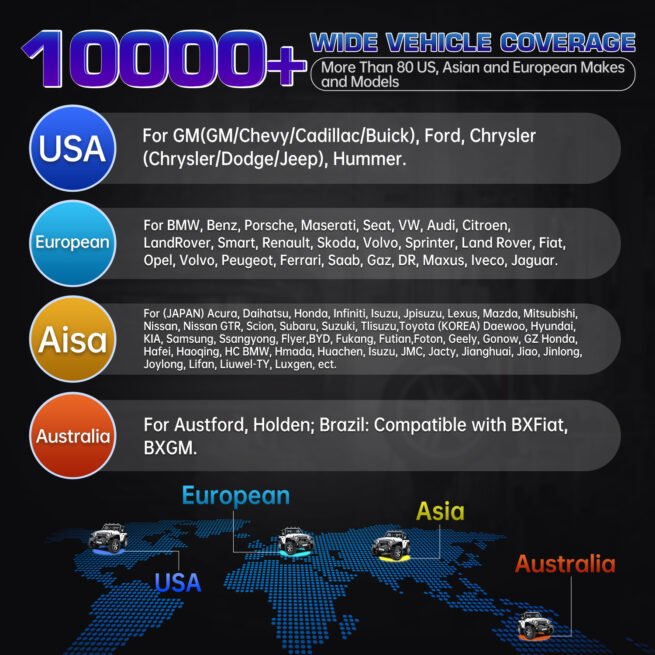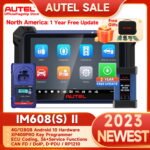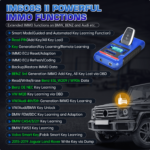 Autel MaxiIM IM608 II IM608S II XP400Pro Key Chip Programmer Car Diagnostic Tool Key Programming Tool ECU Coding PK IM608Pro
28
personer ser på dette akkurat nå

Garantert trygg og sikker utsjekking
Beskrivelse
Electronic:

Yes

Material Type:

plastic

Item Weight:

5.5kg

Item Height:

17cm

Item Width:

40cm

Item Length:

50cm

External Testing Certification:

ce

Voltage:

7w

Special Features:

Bluetooth,Wifi

Power:

7w

Model Name:

Autel MaxiIM IM608(S) II

Software Version:

2023 Newset PK IM608PRO

Hardware Version:

2023 Newset PK IM608PRO

Item Type:

Auto Key Programmer

Brand Name:

Autel

Origin:

Mainland China

Certification:

CE

Brand Name:

Autel

Model Name:

Autel MaxiIM IM608(S) II,IM608S II

Operating System:

Android 10

Memory:

4GB RAM, 128GB On-board Memory

Feature 1:

Automated key learning, Add Key/All Key Lost

Feature 2:

Key Programming/ Key Programmer

Feature 3:

advanced key learning

Feature 4:

Read PIN/CS (all key lost)

Feature 5:

key generation

Feature 6:

key learning

Feature 7:

remote learning

Feature 8:

IMMO ECU reset

Feature 9:

adaptation, refresh/coding

OBD Interface:

CAN, EOBD, OBDII

Supported System 1:

ABS, DPF, EPB, SAS, SRS, TPMS, Engine, Oil Reset

Supported System 2:

Brake bleed, lmmo Keys, lnjector, suspension, Throttle

Supported System 3:

WIN DR POOF, Seat, Airbag, Headlamp, Cylider

Supported System 4:

TEC learn, CHG tire size, Trans adaption

Supported System 5:

Key Coding, ECU Coding, IMMO Key Programming

Accessories:

Adapter Cable, Carrying Case, USB Cable, User Guide

Display:

10.1-inch LED capacitive touch screen

Connectivity:

Bluetooth

Accessory Name:

XP400PRO

Type 1:

Expanded EEPROM functions for more component access

Type 2:

170+ types component reading functions

Type 3:

180+ Immobilizer ECU component types

Type 4:

40+ Engine ECU component types

Type 5:

2000+ MCU component types

Type 6:

440+ EEPROM component types

Type 7:

Compatible with IM508 and IM608

Better Than:

KM100 IM508PRO IM608 PRO

Model Name 1:

XP400 PRO

Model Name 2:

IMKPA

Model Name 3:

APB112

Model Name 4:

GBOX2

Multi-Languages:

English / Portuguese / Germany / Japanese / French / Spanish / Italian/ Dutch/ Polish/ Swedish/ Russian/ Korean/ Turkish/ Vietnamese/ Arabic/ Thai

Warranty:

1-Year

Free Update:

2-Year,1-Year (North America)
Note:
The IM608S II is only available for 1 year of free updates in North America Countries!
The difference of IM608S II and IM608 PRO(IM608S II=IM608 II)
IM608S II is IM608 PRO's updated version.
IM608S II Free Update Online:2 Year(Excluding North American countries)
IM608S II have more advanced hardware.You can check the following difference:
■ IM608S II Hardware
Processor: Qualcomm SDM660 Octa-core(4x 2.2 GHz(A73),4x 1.8 GHz(A53)
RAM: 4G
ROM: 128GB
BT: BT V5.0 + BR/EDR
Android Version: Android 10
HDMI: HDMI 2.0
Screen Size: 10.1inch
■ IM608 PRO Hardware
Processor: Samsung Exynos T5260 6-Core (4x 1.3 GHz(A7),2x 1.7 GHz(A15)
RAM: 2G
ROM: 64GB
BT: BT V2.1 + EDR
Android Version: Android™ 4.4.2, KitKat
HDMI: HDMI 1.4a
Screen Size: 10.1inch
MaxiIM IM608 II Upgraded of IM608 PRO
The IM608 II is a comprehensive key and immobilizer programming package of the MaxiIM IM608 II 10.1-inch Android touchscreen tablet, XP400Pro key and chip programmer, the wireless JVCI+J2534 pass thru programming device and the Key Programming Adapter kit. The IM608 II enables key learning directly through the OBDII port for 85 percent of vehicles in North America. The tablet can read the immobilizer pins and password directly from the vehicle and store this information to use later when learning the newly programmed keys to the vehicle. The IM608 II is also an advanced diagnostics tablet featuring AutoVIN and AutoSCAN technology to automatically identify the vehicle and perform an all systems scan. The advanced diagnostics functions of the IM608 II include the ability to perform active test, coding and adaptations.
Autel IM608 II Main Highlights
1.Auto Detect Make/Model/Year/System
2.Read PIN (All Key Lost)
3.Key Learning
4.IMMO ECU Reset/Adaption
5.IMMO ECU Refresh/Coding
6.Remote Learning
7.AUDI Q5/A4/A5 2015-2017 Key Learning
8.VW MQB Key Learning
9.BMW FEM/BDC Key Learning and Adaption
10.BMW CAS4 Key Learning and Adaption
11.Mercedes Key Learning
12.2015-2018 Land Rover & Jaguar write key via dump
13.Volvo Smart Key Learning/knob-style smart key
14.Advanced Programming Functions
15.EEPROM Read/Write
16.MCU Read/Write
17.Key Programming
18.Mercedes Key Read/Write
19.Remote Frequency Detect
20.ECU Coding & Online Coding & ECU Programming for BMW/Benz
21.Full Bi-directional Control ((Active Test))
22.OE-Level ALL-System ALL-Function Diagnostics
23.VAG Guided Function
24.Cover 10,000+ models
25.1 Years Free Software Subscription 1 Years, WARANTY+ LifeTime Tech Support
26.Multi-language Supported
and so on…
MaxiIM IM608 II PK IM608(XP400PRO PK XP400)
XP400 Pro adds support for following Chips:
1.EEPROM–>AMD–>AM29FXXX series chip
2.EEPROM–> FUJITSU–>MB29FXXX series chip
3.EEPROM–>ST–>M29FXXX series chip
4.Engine control module–>ST–>M29FXXX series chip
5.IMMO–>BENZ–>ESL_W209_W906 (Motorola) read/write/erase function
6.IMMO–>BMW–>EWS3 module read/write function
7.REMOTE_RENEW(renew key)–>NEC–>V51 and V5 chip read/write/erase
Advanced Key Programming Functions
1.Exclusive Smart Mode to guide Key Programming
2.Auto Read IMMO Data via OBD
3.One-tap Key Programming via OBD & Easy-to-use Remote Programming
4.With the newly upgraded key programmer XP400 Pro
All System Diagnostics & Advanced Service Functions (Work with the MaxiFlash JVCI (J2534 ECU Reprogrammer)
1.Oil Service Reset
2.Parking Brake Pad Relearn After Replacement
3.Steering Angle Sensor Relearn
4.Battery Registration and Reset
5.Diesel Particulate Filter Regeneration
6.Tire Pressure Monitoring System
7.Active Test
8.ECU Coding
9.VW/Audi Component Protection
10.Complete Service Functions
and so on…
1000+ Extensive Vehicle & Functionality Coverage
1.Support Diagnostics & IMMO Programming for 10,000+ Models;
2.Support Models Up to 2022;
3.All System Diagnostics and Advanced Maintenance Services;
4.Benz — 3rd Generation IMMO CAN-Line / K-Line Add Key, All Key Lost via OBD;
5.BMW — Support EWS3/4; CAS 1/2/3/4, FEM/BDC Add Key / All Key Lost;
6.Volkswagen / Audi — Add Key / All Key Lost via OBD for 2013 – 2020 Models;
7.GM — Read IMMO Password, Add Key / All Key Lost up to 2020;
8.Ford — Add Key / All Key Lost (No PIN Needed) up to 2020;
9.Mazda — Add Key / All Key Lost (No PIN Needed) up to 2020;
10.FCA — Read IMMO Password, Add Key / All Key Lost up to 2020;
11.Renault — Add Key / All Key Lost (No PIN Needed) up to 2020
12.Jaguar LandRover — Add Key / All Key Lost up to 2019
13.Volvo — Semi-smart Key Learning via OBD up to 2018; Smart / Blade / Fobik Key Learning via Dump
Bonjour Service Support
SUPERIOR MECHANICS ASSISTANT:
In addition to the MaxiCOM standard features and special functions, there are also a host of enhanced features that are specifically designed for common repair shop work, including; Relearn parking brake pad position after replacement, Force fuel injector regeneration and adjustment, Battery registration and reset, Sensor relearning after repair or replacement
SHOP MANAGER:
You can well manage the workshop information with 3 available functions within this application: Vehicle History, Workshop Information, and Customer Manager. Intuitively look up the summarized details.
DATA MANAGER:
The best solution for the data related operations, you can store, print, and review the saved files in Image, PDF,Review Data, Apps Uninstall or Data Logging.
REMOTE DESK:
You can directly get ad-hoc remote support from Autel via Team Viewer software.
APB112 Function List:
1. Smart key simulator
2. Compatible with IM608PRO/IM608, IM508, and MX808IM
3. Compact but would need to be used with the XP400/XP400PRO
4. Cannot be used with the XP200
5. 46, 4D data collection
6. 46 smart key password calculation
7. 46 chip simulation
8. For T0yota 4D (94/ D4, 98) smart key simulation
9.For T0yota H (88/ A8, A9, 39) smart key simulation
10. Collects data from the ignition coil
11. Identify ignition coil troubles
12. Decode vehicle key chip data
13. Simulate vehicle key chip (ex – 4D chip)
14. Must be used with an Autel diagnostic tool
15. For T0yota/ Lexus smart key all key lost
16. Chip decoding (Hyundai 46)
G-Box Main Features:
1.fit For Mercedes Benz All Keys Lost, Faster Password Calculation
2. Used with IM608/IM608PRO
3. Used for Faster fit for Mercedes ECU data and EIS password calculation
4. fit For Mercedes DAS3 can EIS / EZS all keys lost
5. Reduce time reading W204 ECU data & W207 EIS by over 85%
6. No need to remove and reinsert the key for W221 & W164 after 2009 models
7.fit For BMW DME / DDE ISN reading and writing in boot mode
8. G-Box is compatible with both the Autel MaxiIM IM608/IM608PRO and IM508 with XP400PRO, also compatible with Auro IM600 and Auro IM100 with XP400PRO
IM608S II Packling List:
1x Autel MaxiIM IM608S II Main Unit
1x APC101 USB Cable
1x APA101 Signal Cable
1x MaxiFlash JVCI
1x APB101+APD101(EEPROM Adaptor+EEPROM Adapter Shell)
1x APA103(EEPROM Clamp)
1x APB102 MB IR Cable
1x APA104 ECU Clamp
1x Main Cable
1x APB104(MCU_FQFP64)
1x APA105(MCU Clamp)
1x USB Cable (2m)
1x APB105 MCU_FQFP80
1x APA106(MC9S12 Clamp)
1x Mini USB Cable
1x APB106(MCU_FQFP144)
1x APA107(Connect Cable)
1x AC/DC 12V Adapter
1x APB107(MCU_FQFP144)
1x Quick Reference Guide
2x Light Fuse 6*30mm
1x APB108(MCU_FQFP176)
1x Packing List
1x Cigarette Lighter
1x APA002(EEPROM Socket)
1x Carrying Case 634*170*404mm
1x AAC001
1pc x XP400 Pro Main Unite
IMKPA Packing list:
1*APB113
1*APB114
1*APB115
1*APB118
1*APB119
1*APB120
1*APB121
1*APB122
1*APB123
1*APB126
1*APB127
1*APB128
1*Storage Case
G-BOX2 Package Included:
1pc x Autel G-BOX2
1pc x DB15 Cable
1pc x K-Line Cable
1pc x Fuse Cable
2pcs x Fuse (5A)
2pcs x Clamp Cable
1pc x OBDII Extension Cable
1pc x Quick Reference Guide
APB112 Package List:
1pc x APB112 Smart Key Simulator
1pc x USB cable
1pc x Quick Reference Guide
Det er ingen spørsmål funnet.