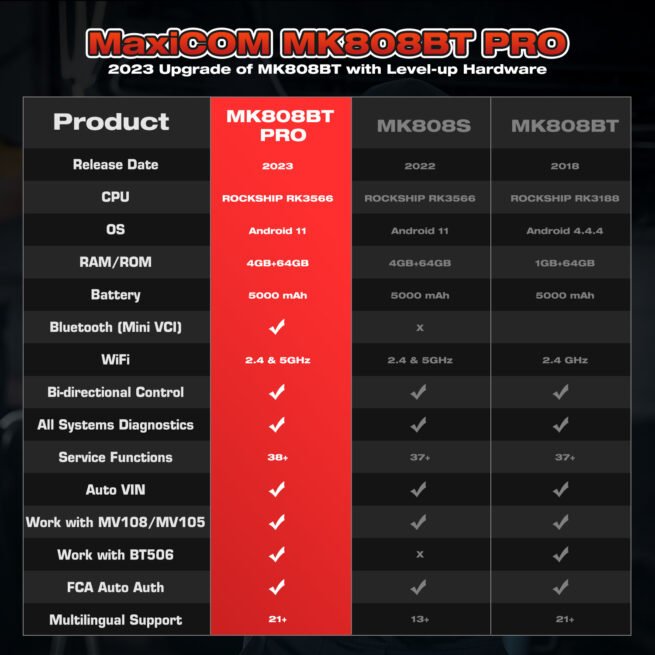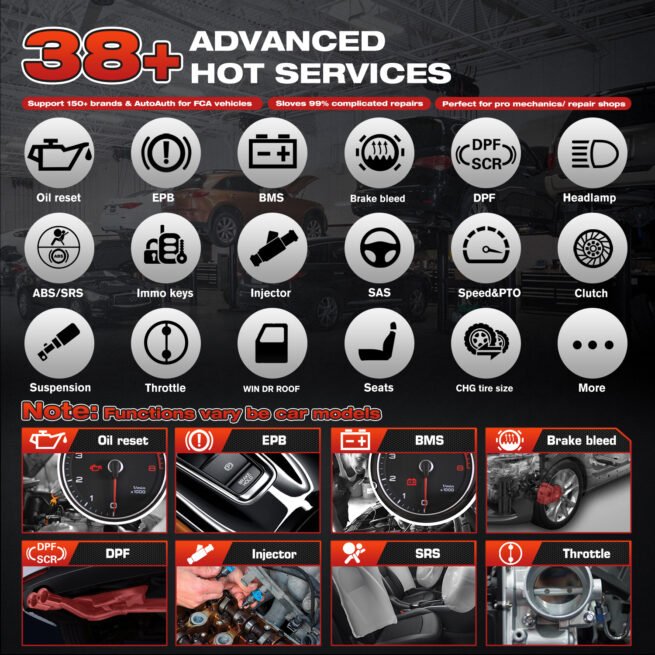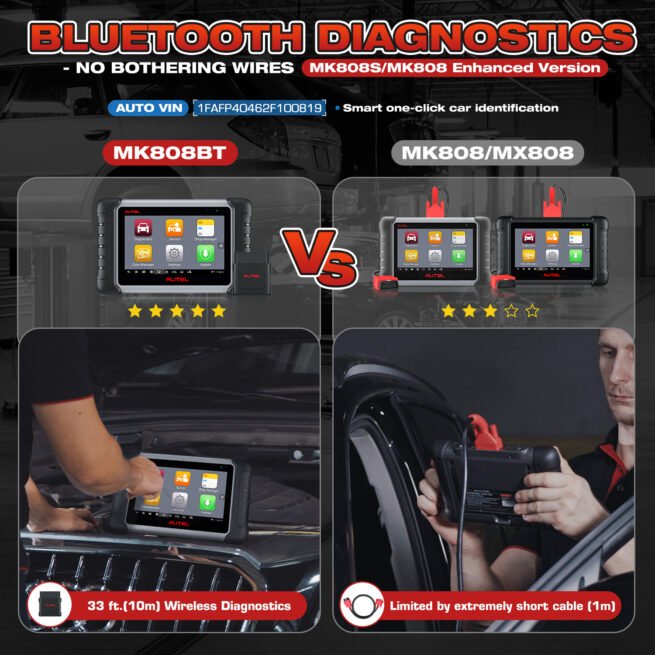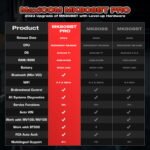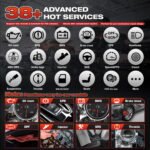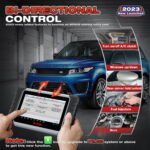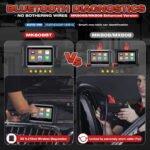 Autel MaxiCOM MK808BT PRO Car Bi-directional Diagnostic Tools OBD2 Scanner Code Reader All System Diagnosis PK MX808S MK808S
23
personer ser på dette akkurat nå

Garantert trygg og sikker utsjekking
Beskrivelse
Electronic:

Yes

Material Type:

PLASTIC

Item Weight:

788g

Item Height:

3.5cm

Item Width:

14.8cm

Item Length:

23.7cm

External Testing Certification:

ce

Voltage:

12V

Special Features:

Bluetooth,Wifi

Power:

5 V/1.5 A

Model Name:

Autel MaxiCOM MK808BT PRO

Software Version:

MK808BT Pro 2023 NEWEST

Hardware Version:

MK808BT Pro 2023 NEWEST

Item Type:

Engine Analyzer

Brand Name:

Autel

Origin:

Mainland China

Certification:

CE

Product Name:

Autel MaxiCOM MK808BT PRO

Advantage:

Hardware upgrade

Operating System:

Android 11

ROM:

64GB

RAM:

4G

CPU:

Rockchip RK3566

WIFI:

2.4 & 5 GHz

Display:

7-inch LCD capacitive touchscreen

Resolution:

1024 x 600

Micro SD card:

16-128GB

Connectivity:

Mini USB 2.0 USB 2.0 Wi-Fi HDMI Type A

Battery:

3.7 V/5000 mAh lithium-polymer battery

Tested Battery Life:

Around 7 hours of continuous use

Battery Charging Input:

5 V/1.5 A

Power Consumption:

600 mA (LCD on with default brightness, Wi-Fi on)

Operating Temp.:

0 to 55 Celsius

Storage Temp.:

-20 to 60 Celsius

Operating Humidity:

5% – 95% non-condensing

Similar Model 1:

DS708 DS808 DS808K X431

Similar Model 2:

MK808TS MP808 MP808K MS906 X431 Pro

PK:

OTOFIX DI LITE MX808 MX808S MK808 MK808S

Warranty:

1 Year

Free Software Updates:

1 Year
MK808BT Pro Hardware VS MK808BT Hardware
MK808BT PRO is MK808BT's updated version.
MK808BT PRO have more advanced hardware.You can check the following difference:
■ MK808BT PRO Hardware
CPU: Rockchip RK3566
RAM:4G
ROM:64G
Battery Capacity:5000mAh
Android Version:Android 11
Screen Size:7inch
Wifi:2.4 & 5 GHz
VCI:VCI MINI
■ MK808BT Hardware
CPU: Rockchip RK3188
RAM:1G
ROM:64G
Battery Capacity:5000mAh
Android Version:Android 4.4.4
Screen Size:7inch
Wifi:2.4 GHz
VCI:VCI MINI
Why do you chose MaxiCOM MK808BT PRO? – MK808BT Hardware Upgrade, Faster To Use, 2023 Autel Most Cost-effective OBD2 All Systems Diagnostic Scanner
MK808BTPRO is the upgrade version of MK808 MK808S and MX808, the MK808BT Pro can do the wireless diagnostics through the BlueTooth VCI, while the MK808 MK808S can't.
Do you want to know what happened to your cars? Need to do some car maintenances but the cost is so expensive? Bi-Directional Control (Active Test)? Turn off annoying warning lights? ABS brake bleed? Injector coding ? Oil reset? Erase lost key information? Wireless connection? OBD2 all-systems diagnostic scan tool MK808BT PRO has all of those things. If you have several cars, you can almost imagine how much this little thing can save you, after all, the active test & maintenance cost of a car is very expensive. With MK808BT PRO, you can easily master your car condition, no wasting money and time anymore!
If you are DIYer enthusiasts, home mechanics or small or small-to-medium scaled workshop workers/ owners, the MK808BT PRO is made for you. Stable and user-friendly design, 7-inch responsive touchscreen, Android 11, 4GB RAM, enhanced built-in 64GB ROM, easy operation and 5000mAh battery, 7 hours continuously working time. No need to scratch your head, just few clicks to scan all available systems and, like doctor, diagnose where the problem is.
1. Upgraded version of Autel MK808 MK808S /MX808(Say goodbye to wired Diagnosis)
Autel MaxiCOM MK808BT Pro professional scan tool is an upgraded version of Autel MK808 MK808S/MX808. It comes with both wireless VCI connection and lined connection via the USB cable included. MK808BT Pro enables you to access and diagnose various vehicles wirelssly with a working range up to 33ft (10m), no more short cables.
2. 2023 Newest Function for MK808BT PRO
a. Bi-Directional Control(Active Test)
b. Battery Test Capability (BT506 required,not included),which MK808 MK808S wired tool doesn't support
c. Compatible with Autel MV108Inspection Camera (not included)
d. Cloud-based Report Management
e. Supports FCA "Auto Auth" gateway for 2018 and newer FCA cars(Chrysler/Dodge/Jeep,etc) for US/Canada & Mexico.
3. More Useful Hot Functions:
The 2023 New version Bluetooth Version of MK808, MK808S, MK808PRO, Update version of MK808, MX808.
MK808BT PRO Featuring the powerful Cortex-A9 processor, and a 7.0 inch LCD capacitive touchscreen, based on the Android multitasking operating system, and combined with the ability to quickly read and clear DTCs for all available modules of the majority of the makes and models on the market.
The MaxiCOM MK808BT PRO is your ideal auto diagnostic and service tool:
1. It supports ALL SYSTEMS DIAGNOSIS : Autel MK808BT PRO automotive diagnostic tablet can access and scan all available systems on 80+ US, European, Asian makes and models to read and clear codes, view live data and ECU information. It works on vehicles up to 2018, 2019,2020,2021 and some up to 2022.
2.It supports 38 + SPECIAL REST SERVICES : Auto Brake bleed, Oil Reset, EPB Reset(electric parking brake pad reset after replacement), Battery Registration, DPF(Diesel Particle Filter) Regeneration, Injector Coding, etc. (NOTE: MK808BT does not support ECU coding).
3. It provides AUTO VIN + AUTO SCAN: The MaxiCOM diagnostic system features the latest VIN-Based Auto VIN Scan function to identify vehicles and scan all the diagnosable ECUs and run diagnostics on the selected system. This function is compatible with 2006 and newer vehicles.
4.Global Vehicle Coverage:
Autel MK808BT PRO professional auto scan tool comes with unparalleled vehicle coverage of more than 80 American, Asian and European vehicle makes. With complete OBD2 capabilities, MK808BT OBD2 scanner is capable of performing all 10 modes of OBD2 tests and thus complete OBD2 coverage of American vehicles post-1996.
5. Support More Multi-Languages:
English,German,Spanish,Japanese,Portuguese,Dutch,Polish,Swedish,French,Italian.Korean,Russian,Persian,Turkish,Thai,Vietnamese,Hebrew,Arabic,Indonesian
Note: Please leave the S/N of machine to authorize the language you want after you receive it.(The S/N can be found behind the device or on the About page of tool- "Maxisys-> Settings -> About Us")
Complete Capabilities for Codes and Live Data:
Complete Capabilities for Codes and Live Data: MK808BT PRO diagnostic scan tool has complete capabilities to read and clear codes on available modules and show live stream data for multiple sensors.
6. Key Fob Programming
Add New Key: Add An Extra Key To The Vehicle
Disable the lost vehicle keys.
The IMMO Keys function is designed for Asian vehicles that have low-grade anti-theft systems and NOT intended for AUDI, Benz, BMW, VW which have advanced IMMO systems. If need IMMO functions, please consider Autel IMMO tools, such as IM508/ IM608 (Pro).
7.Bonjour Service Support-User Friendly
SUPERIOR MECHANICS ASSISTANT:
In addition to the MaxiCOM standard features and special functions, there are also a host of enhanced features that are specifically designed for common repair shop work, including; Relearn parking brake pad position after replacement, Force fuel injector regeneration and adjustment, Battery registration and reset, Sensor relearning after repair or replacement
SHOP MANAGER:
You can well manage the workshop information with 3 available functions within this application: Vehicle History, Workshop Information, and Customer Manager. Intuitively look up the summarized details.
DATA MANAGER:
The best solution for the data related operations, you can store, print, and review the saved files in Image, PDF,Review Data, Apps Uninstall or Data Logging.
REMOTE DESK:
You can directly get ad-hoc remote support from Autel via Team Viewer software.
DATA PRINTING:
Being a professional scan tool, MK808BT enables you review freeze frame and print out diagnostic data reports via PC for review or further analysis.
8. Updates & Services&Remote Technical Support【1 YEAR FREE UPDATES & WARRANTY + LIFETIME TECH SUPPORTS】
MK808BT PRO diagnostic computer tablet comes with 12 Months Free Software Updates which are updated frequently to improve its capability and coverage continuously. When the free 1(one) year period expire, you can still use all the functions of the auto scanner tablet without any issues. However, updates do improve its capabilities and performances.
Features
– Extraordinarily powerful Rockchip RK3566 CPU, 2.4 & 5 GHz Wifi
– 7-inch LCD capacitive touchscreen with 1024 x 600 resolution display
– Internal reliable 64GB On-board Memory, RAM 4G for better performance
– Unique ergonomic design with rubberized outer protection and a rugged internal housing
– Android 11 Operating System for fast boot-up and multitasking
– Extensive vehicle coverage for more than 150+ US, Asian and European vehicle makes
– Bi-Directional Control(Active Test)
– Complete capabilities for codes, live data, electronic control unit (ECU) information, and vehicle control systems, etc
– Data Manager saves customer and vehicle records, scanner data and technician notes for future review
– Read/clear codes for all available systems
– Displays live data in text, graph & analog for easy data review
– Auto VIN technology automatically identifies the vehicle's make, model and year
– Relearns parking brake pad position after replacement
– Supports IMMO functions
– Supports forced diesel particulate filter regeneration and injector adjustments
– Reset Steering Angle Sensor (SAS)
– Reset service mileage and service intervals
– TPMS Reset
– Supports battery registration and reset
– Support Multi-language
– 1 Year Free Update & Warranty
– MK808BTPRO is the upgrade version of MK808 MK808S and MX808, the MK808BT Pro can do the wireless diagnostics through the BlueTooth VCI, while the MK808 MK808S can't.
Specification
Recommended Use :Indoor
Operating System:Android11
Processor:Cortex-A9 processor (1.5 GHz)
Memory:64GB
Display:7-inch LCD capacitive touchscreen with 1024 x 600 resolution
Connectivity: Mini USB 2.0 / Wi-Fi / HDMI Type A / Micro SD card (supports up to 32GB)
Sensors:Light sensor for brightness auto changing, Ambient light sensor for brightness auto adjust
Audio input/output:Input: N/A Output: Buzzer Beep
Power and Battery:3.7 V/5000 mAh lithium-polymer battery Charges via 5 VDC power supply
Tested Battery Life:Around 4.5 hours of continuous use
Battery Charging Input:5 V/1.5 A, Charges via 5 VDC power supply
Power Consumption:600 mA (LCD on with default brightness, Wi-Fi on) @3.7 V
Operating Temp:0 to 55°C(32 to 131°F)
Storage Temp:-20 to 60°C (-4 to 140°F)
Operating Humidity:5% – 95% non-condensing
Dimensions (W x H x D):237.8 mm (9.4") x 148.6 mm (5.9") x 35.5 mm (1.4")
Net Weight:788 g (2.42 lb.)
Protocols :ISO9141-2, ISO14230-2, ISO15765, K/L-Line, Flashing Code, SAE-J1850 VPW, SAE-J1850PWM, ISO11898 (Highspeed, Middlespeed, Lowspeed and Singlewire CAN, fault-tolerant CAN), SAE J2610,GM UART,UART Echo Byte Protocol, Honda Diag-H Protocol, TP2.0, TP1.6
Package Include:
AUTEL MK808BT PRO Tablet *1
USB External Power Adapter_test*1
USB Cable (for charging)*1
USB Cable (for test)*1
MaxiVCI Mini*1
User Manual*1
Quick Reference Guide *1
Det er ingen spørsmål funnet.